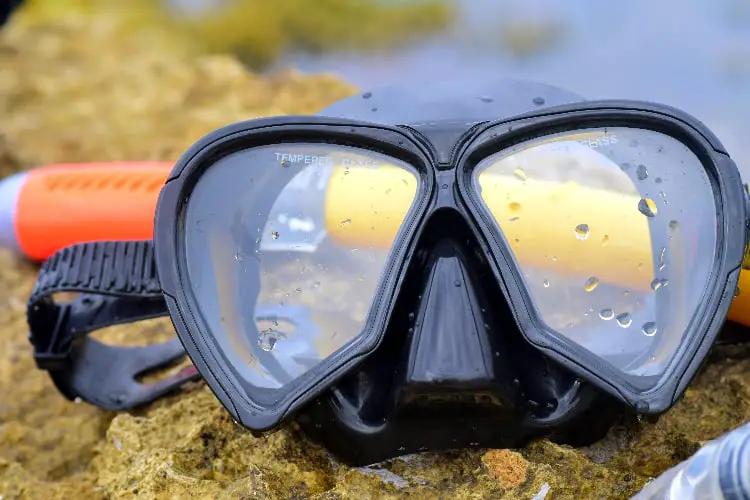 Snorkeling is a water-sport that many families get involved in together. Like scuba-diving, it allows you to enjoy what is under the water, but unlike scuba diving, you don't need a lot of very expensive equipment to participate.
There are scuba equipment for almost any age, so it is easy to outfit everyone in a family for snorkeling. There are also classes you can take if you are interested in snorkeling. Generally, these are very inexpensive and only last a little while. This sport might look completely safe, but you should always get professional pointers in case of an emergency.
Basic Equipment Overview
Snorkeling Masks
Before you go, it is good to have an idea of what you are going to be learning and using. General equipment for snorkeling includes masks, snorkels, and fins.
Do not be led to believe that all snorkeling masks are the same. There are many variations on the construction of masks, and all of them are for different purposes. For the most part, the mask you buy will depend entirely on personal preference, but there are some things you should know while you are shopping for one.
One thing is that masks have different lenses. You can easily get one, two, or three lenses on a set of goggles. More lenses generally mean a wider range of visibility. Which you get is dependent on what you are comfortable with and which masks fit your face best.  Two-lens goggles are sometimes the best options for people who need corrective lenses. Sometimes manufacturers can put corrective lenses in a mask like this. You would probably only want this if you were going to be snorkeling often though.
There are also different straps that you can get on your masks. Generally, they come with buckles, and they are almost always adjustable. Neoprene straps are good choices for people with longer hair because hair does not get tangled in it as easy. If you have long hair, you should also think about braiding it so that less of your hair is floating around to get tangled in the strap.
If you have a beard and mustache, we recommend you read our guide on how to form a tight seal to prevent water from leaking in, as well as our review of the best snorkel masks for beards. Over time, some water might manage to seep in regardless, and you will have to perform a water clearing technique. However, there are snorkel masks with purge valves that can help you vent out water automatically just by exhaling through your nose.
Snorkels
Snorkels often come with masks, but you can also buy them separately. They consist of the mouthpiece and the barrel. There are snorkels made for adults and children, and they should be used by the person they were made for. The lung capacity of the person in question needs to be taken into account. Children won't be able to expel the carbon dioxide completely from the barrel and could start breathing it back in.
There are many different options you can get when it comes to snorkels. You can get ones that have replaceable mouthpieces and ones that close off if they are submerged. This keeps you from inhaling water. Also, you can get ones that have a water purge option on them, so if water does get into the snorkel, you can expel it easily.
Fins
You will also want to get yourself a good set of fins. Without nice fins, your snorkeling experience may not be all that enjoyable. The purpose of them is to allow you to move through the water smoothly and without a whole lot of effort on your part.
Some fins you can buy are split, and others have holes in the sides of them. These control the flow of the water around the fins. There are also very skinny fins, and very wide ones. You need to find out what the best shape of fin is for you. You will also need to figure out if you prefer full-foot fins or straps on the back.
If you are just starting out with snorkeling, or you like a particular brand of equipment, you can look into buying snorkeling sets. These will provide you with everything you need to start snorkeling and generally come with a bag to carry your stuff in.
Once you get started in the sport, you will have found something that you can easily enjoy for many years. People of all ages participate in snorkeling, and it is something groups can do together, or you can just enjoy by yourself.
Rash Guards
If you plan on snorkeling for long periods of time, you will expose your back to the sun's harsh UV rays. Even if you wear sunscreen, you have to worry about reapplying it every so often which can be annoying. However, you can wear a rash guard instead to protect your skin from the sun. Many rash guards have SPF 50+ protection, and some are even approved by the Skin Cancer Foundation.
Furthermore, rash guards can also serve to keep your warm due to the insulating effects of neoprene. They can also protect your skin from sharp coral or jellyfish stings. When selecting a rash guard, you can choose between tight fit or loose fit, and short sleeve or long sleeve. We personally recommend snorkelers wear a tight-fitting long sleeve rash guard, and you can read read our reasons here.
Wetsuits
Wetsuits do much of the same thing as rash guards, but rather than only covering the upper body, wetsuits can cover the whole body. It is intended for people who engage in water activities in cooler climates, and wetsuits can even be worn over rash guards for an extra layer of protection.
Snorkel Vests
For those who are not particularly strong swimmers, snorkel vests can help provide much needed buoyancy to keep them afloat. In fact, even experienced snorkelers may wish to wear a snorkel vest as it helps them save energy so that they can spend more time exploring and enjoying the sights without worry.
Flotation Belts
Flotation belts are another type of snorkeling flotation device like the snorkel vest. Like the name implies, it is essentially a belt made from closed-cell foam, which has air trapped inside of it and what makes it buoyant. Additionally, flotation belts are often used by swimmers for endurance training, or for casual swimmers who want to improve their swimming skills.